natalielue
Regular price
Sale price
$9.00 USD
Unit price
per
Sale
Sold out
Are you ready to change how you feel about yourself and transform your life? 
One hundred days from now you'll get to meet the new, improved, happier you!
The key to feeling good and having a great relationship is treating and regarding yourself with love, care, trust and respect before you develop those feelings for another person. Easy, right? If you're already shaking your head, then I understand, and it's precisely why I created this 100-day project.
We rarely take the time to appreciate and love anything about ourselves. So how can we expect others to develop those feelings?
I've been where you are and know first-hand the change you will feel when you learn to let go of excess emotional baggage. Not only can it instantly make a difference to your emotional, mental, physical and spiritual well-being but it also makes space for more loving experiences and relationships. And when you are confident and comfortable in your own skin, you'll soon draw in the right people, things and situations for you.
Wouldn't it feel great to just know what to do and how to get what you wanted? You can begin today and start to make sense of your past experiences and habits.
Investing a little time and energy into you each day makes a significant difference if you're self-critical, prone to people-pleasing, or struggle to create, forge and sustain healthy relationships. 
100 Days of Baggage Reclaim is packed with plenty of bite-sized doses of inspiration, mindset shifts, tips and practices to help you make radical shifts in a relatively short period.
Some of the days are about stretching your thought process, while others involve trying something new or achieving a small task. This will all help to build your self-esteem, change unhealthy habits of thinking and behaviour and encourage a more loving frame of mind.
Also included are journaling prompts to help you increase self-awareness and inner knowledge so that by the end, you know 'you' far better than you did before. You might even surprise yourself!
Afterwards, you'll find you are less inclined to get sucked into unhealthy patterns. The pace is entirely up to you so you can, of course, read ahead or just take it a day at a time — whichever feels right for you. Many of the Baggage Reclaim tribe have mentioned that there is so much valuable knowledge they dip back into it every now and then to help them stay on track in the long term.
Get to know and love the real you, boost your confidence, and bake self-care into the day-to-day of your life.
Share
View full details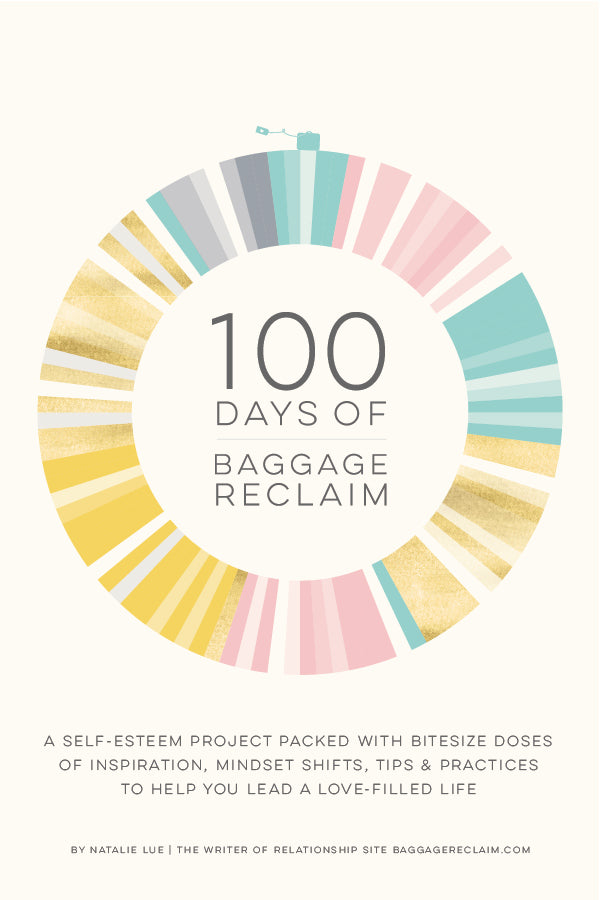 Frequently Asked Questions
How do I access my ebook/audio purchase files?

When you complete your purchase, you will receive a receipt which includes your download links. You will also receive, where applicable, a separate email with additional download links for resources.
Do I read the book (or listen to the audio sessions) online?

No. You will receive emails with links for you to download your purchases. Depending on your device, you might be presented with the option to view/listen to the file, and in this instance, you will need to click the button or link for you to download the item.
Do the download links expire?

For security purposes, there is a download limit on your purchases (3 times or 3 months, whichever happens first). If you require a new download link after this time, email shop AT baggagereclaim.co.uk (replace 'AT with @).
What format are my ebook/audio purchase files?

eBook purchases are always available as PDFs. Depending on the product, your purchase might include an ePub file.

PDFs open on everything, and ePubs only open on mobile apps (your device will prompt you to open it in, for example, Apple's Books).

Audio files are MP3s.
How do I access my course?

When you complete your purchase, you will receive an email within minutes asking you to set up your login. All of my courses are hosted on courses.baggagereclaim.com, which is on the Thinkific online courses hosting platform.
Does Natalie give personal/one-to-one advice on her courses?

I don't offer private, individual support (e.g. email/DMs/phone). Instead, I communicate with students via a private Facebook group where members can post questions and dilemmas, and in the monthly Office Hours (Q&A) sessions that I host on Zoom, where I answer questions members have submitted in advance and during the live session.
Do you do instalments/payment plans?

You can pay in instalments (or payment plan) for courses. If this option isn't showing at the checkout for your course, please go directly to the course site and enrol on the course there. Break The Cycle | Reclaim Your Work Boundaries | Create Your NC Plan

Please note that when you sign up for an instalment/payment plan, you are agreeing to pay the full amount spread out over the chosen period.
Do you provide refunds?

All sales are final on eBooks, phone and email consultations, and Sessions. For courses, you have seven days from the date of purchase (or course start date if it's for a group start date).
How long do I have access to my course?

You have one year's access from your date of purchase.