natalielue
Regular price
Sale price
$12.00 USD
Unit price
per
Sale
Sold out
Most people if asked would deny that they'd ever had a fantasy relationship as they're associated with pretending to be with someone or in something that's non-existent, however, it's time for you to change what you think you know.
In this modern age of texts, email, Facebook, online dating, and casual relationships, it's never been so easy to find yourself in a crumb filled fantasy relationship. An increasing number of people are satisfied with sprinklings of attention and interaction which they use to give themselves the illusion of being loved, cared for and in control because they get to avoid commitment, intimacy, and 'full-on' rejection.
The Dreamer and the Fantasy Relationship is for every woman who's been caught short by their overactive imagination and their great expectations.

Struggled to get over a relationship that didn't truly exist? 
Don't understand how you wound up spending years with someone you hardly see? 
Keep letting your assumptions and projections run away with you?
It's time to come back down to earth and face reality so you can take action in your present, face your real future, and get happy.
Acting as a companion guide to Mr Unavailable and the Fallback Girl, the no holds barred 'bible' for understanding excuse filled, commitment dodging, unavailable men and the women that they fall back on for an ego stroke, shag, and a shoulder to lean on, I wanted to introduce a new role due to the sheer number of emails and comments I receive from women who actually believe that the crumbs they're receiving, particularly via cheap talk, grand promises, texts, email and Facebook, are a relationship or 'love'.
You need to read this if:
You're an Escapist, dissatisfied with your current relationship, mentally checking out, complaining about your expectations not being met, and even starting an affair with someone else.
You're a Crusher, 'loving' and admiring someone from a distance that puts you in that unreciprocated feelings setting.
You're a Virtual, spending too much time surfing dating sites, relying on the written word and getting high off the buzz of a text or email coming through.
You're a Tabber, angry, hurt and feeling rejected because your relationship is over so regaining a sense of control by devoting your time and energy to tracking your ex via social networking and poking around in his life.
The Dreamer and the Fantasy Relationship explains how fantasy relationships work, why they're so attractive, the types of fantasy relationship and Mr Unavailable that you're likely to be involved with, and provides practical tips and tools for breaking the habit and tackling issues such as rejection avoidance, and fear of abandonment, criticism and conflict.
Delivered with my no-fluff dose of reality and plenty of humour, I want to empower you to let go of the illusions so that you can be available for an available relationship in the real world.
Want the print/Kindle/audiobook version of The Dreamer and the Fantasy Relationship? They're available on all the Amazons. 
Share
View full details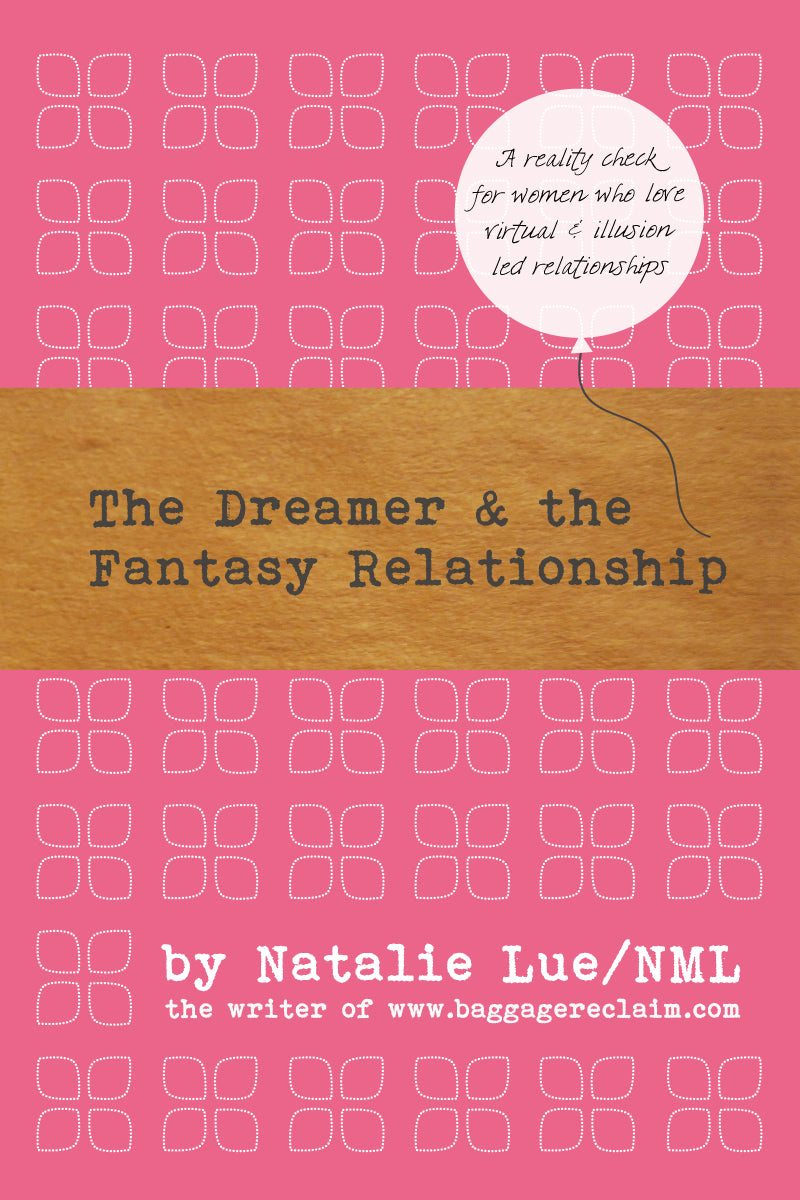 Frequently Asked Questions
How do I access my ebook/audio purchase files?

When you complete your purchase, you will receive a receipt which includes your download links. You will also receive, where applicable, a separate email with additional download links for resources.
Do I read the book (or listen to the audio sessions) online?

No. You will receive emails with links for you to download your purchases. Depending on your device, you might be presented with the option to view/listen to the file, and in this instance, you will need to click the button or link for you to download the item.
Do the download links expire?

For security purposes, there is a download limit on your purchases (3 times or 3 months, whichever happens first). If you require a new download link after this time, email shop AT baggagereclaim.co.uk (replace 'AT with @).
What format are my ebook/audio purchase files?

eBook purchases are always available as PDFs. Depending on the product, your purchase might include an ePub file.

PDFs open on everything, and ePubs only open on mobile apps (your device will prompt you to open it in, for example, Apple's Books).

Audio files are MP3s.
How do I access my course?

When you complete your purchase, you will receive an email within minutes asking you to set up your login. All of my courses are hosted on courses.baggagereclaim.com, which is on the Thinkific online courses hosting platform.
Does Natalie give personal/one-to-one advice on her courses?

I don't offer private, individual support (e.g. email/DMs/phone). Instead, I communicate with students via a private Facebook group where members can post questions and dilemmas, and in the monthly Office Hours (Q&A) sessions that I host on Zoom, where I answer questions members have submitted in advance and during the live session.
Do you do instalments/payment plans?

You can pay in instalments (or payment plan) for courses. If this option isn't showing at the checkout for your course, please go directly to the course site and enrol on the course there. Break The Cycle | Reclaim Your Work Boundaries | Create Your NC Plan

Please note that when you sign up for an instalment/payment plan, you are agreeing to pay the full amount spread out over the chosen period.
Do you provide refunds?

All sales are final on eBooks, phone and email consultations, and Sessions. For courses, you have seven days from the date of purchase (or course start date if it's for a group start date).
How long do I have access to my course?

You have one year's access from your date of purchase.